The protective cover is made ​​of clear, impact-resistant plastic and protects water meter cover from mechanical damage.
The cover is placed on an already installed domestic water meter and sealed over a hole, fitted cap holders or placed a sticker with an identification number. If the seal or sticker will be damaged or the cover is broken and the meter casing is damaged, water meter users face sanctions not only for the damage to metering devices, but also unfair water consumption.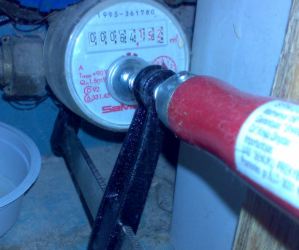 Thousands of houses get visited monthly by special workers to inspect the water meters or replace them. Specialists assess whether the meters are in working order, no mechanical damage. According to data from water companies water meters for checking the status of household consumer premises for about 40 percent of the meters are found damaged. The most common water meter defect - was falling protective cover. This defect can be caused by an accident, thought in most of the cases its caused by trying to modify the water meter to avoid higher taxes.
The protective covers protect's the water meters from unintentional harm, as well as protects the water meters from modifying them in order to avoid taxes.